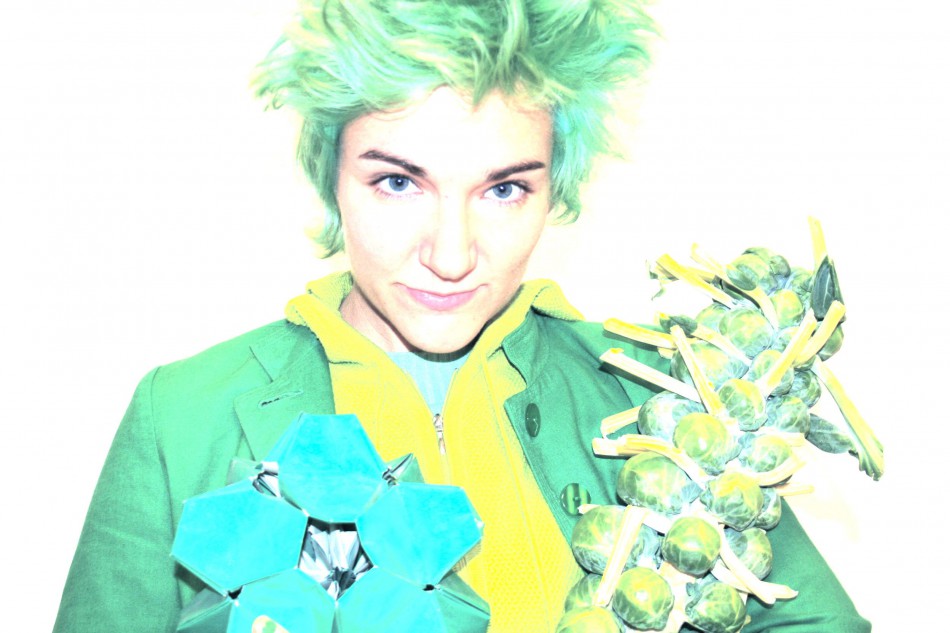 It all started when Kelsey LaPoint created a character that I love to embody. She first shared Atnas with the world in the form of a poem and illustration published in the Confluence.
A new Christmas myth begins: Atnas. Atnas is Santa's counterpart—or counterpoint, if you think of people as melodically joint. "Jesus was a garbage man!" a monk thunk as he began to make art with other people's junk. Atnas is somewhat the same. Her sleigh is the global garbage truck that hauls away the million more tons of trash weekly made betwixt Turkey Gibblins and New Yearnings day.

Her steed is a colossal Filter Queen, hurdling across the heavens, flummoxing folks from New Orleans to Aberdeen. "Whose silhouette across the moon is seen? The witches are getting high tech with these flying machines!" A flexible nozzle fits every chimney. All minimally loved objects neglected are collected along with the extra 4 million tons trash, Ejected from America's disposable stash— sucked up and sorted, to be compost, or deported, processed in accord so that nothing is hoarded.

The household's role is to leave out an empty plate on which Atnas will leave a statement to explicate how you can regulate energy use for efficiency's sake, retardate the creation of waste, and propagate more Love in the fields of life.

Here comes Atnas, to preach to the masses: "So symbolically speaking, this Yule-tide seeking celebration is centered on the rebirth of love without ration, sent in a heavenly fashion from powers above, J.C. being the babe of the All-Mighty Love. Hence Santa soaring while the world is snoring to drop little lovebombs into wrapped boxes to be born like joy into the hands of lil' gals and boys. But some reach a stage where gadget glee is superseded by greater needs . . . . adoration delivered without the aid of objects, financial conservation, ecological aspirations— deterring the dissipation of land at the hands of our own development and debris . . . . We all pretend to be St. Nick for someone, Thus we are all also Atnases, shouldering trash on our back like earth-bearing Atlases, self-assessing our energy intake and object output, love outreaching and action afoot."

"Some say Jesus was a garbage man. I'd say we are all men and women Of garbage. And God. Act as God and grant your garbage another life. A green Xmas to all, and to all a good flight . . . "
The next iteration took place in a playful, holiday musical pageant, May These Changes Make Us Light, at the New City School theatre in December 2009:
An adventurer seeks the counsel of Santa Claus on a quest to meet the most inspiring entities of Earth. On his journey to the North, he encounters other unexpected and yet extraordinary individuals:  Atnas, the environmental activist; the Snowqueen, guardian of the North; Mrs. Claus; and many creatures and elves.

Interwoven with this narrative are performances from a cast of St. Louis talent:  The Universal Lotus Lovers Acroyoga troupe, choreographers Rebecca Rivas and Carrie Dobsch, movers and musicians Amanda Jokerst, Amber Dover, and Willy Zep, Celia's Yuletide Express, FIRE DOG, Tibetan singing bowl and didgeridoo player Bradford Smith, Emily Hemeyer on improvisational vocals and dulcimer, singer and lovebomb Na-do with her daughter Safa, video mixer Mike Pagano, artist and actor Jeffrey Miller, Mark Pagano as the protagonist, status-quo destabilizer Lyndsey Scott as Atnas, and visionary conceptualist Kelsey LaPoint as the storyteller.

Experience a radical adventure and remaking of the Christmas myth!
The next year, the New Music Circle funded an hour-long video project of the extended Atnas story, filmed around STL sites including the flood wall and the Community Arts and Movement Project. From the program:
A new heroine is here to revamp the habits of the x-mess-stress holiday. Whoosh!!! "Release" is the buzzword of her business.

Yes, Santa's daughter was at one time a spoiled princess, but now her mission involves flying around the world on a vacuum cleaner and helping get rid of the gunk we wish to see go.

To some, Atnas may appear as a cleaning lady, humbling hauling away your trash. To others, she can be a life coach, walking you through the deep process of releasing unhelpful habits and beliefs. Or she may tote her whole toolbox down the chimney to bring in the vast sweep of change. It is all up to you, and what you ask for. Arriving at such a role, and standing firm in the realm of service is a journey that Atnas continues to navigate. The video leads us through Atnas' life via experimental animation and filming techniques.

Writers and artists Kelsey LaPoint and Lyndsey Scott (Atnas) team up with filmmaker and choreographer Rebecca Rivas to bring you a video that will rock your holiday spirit.