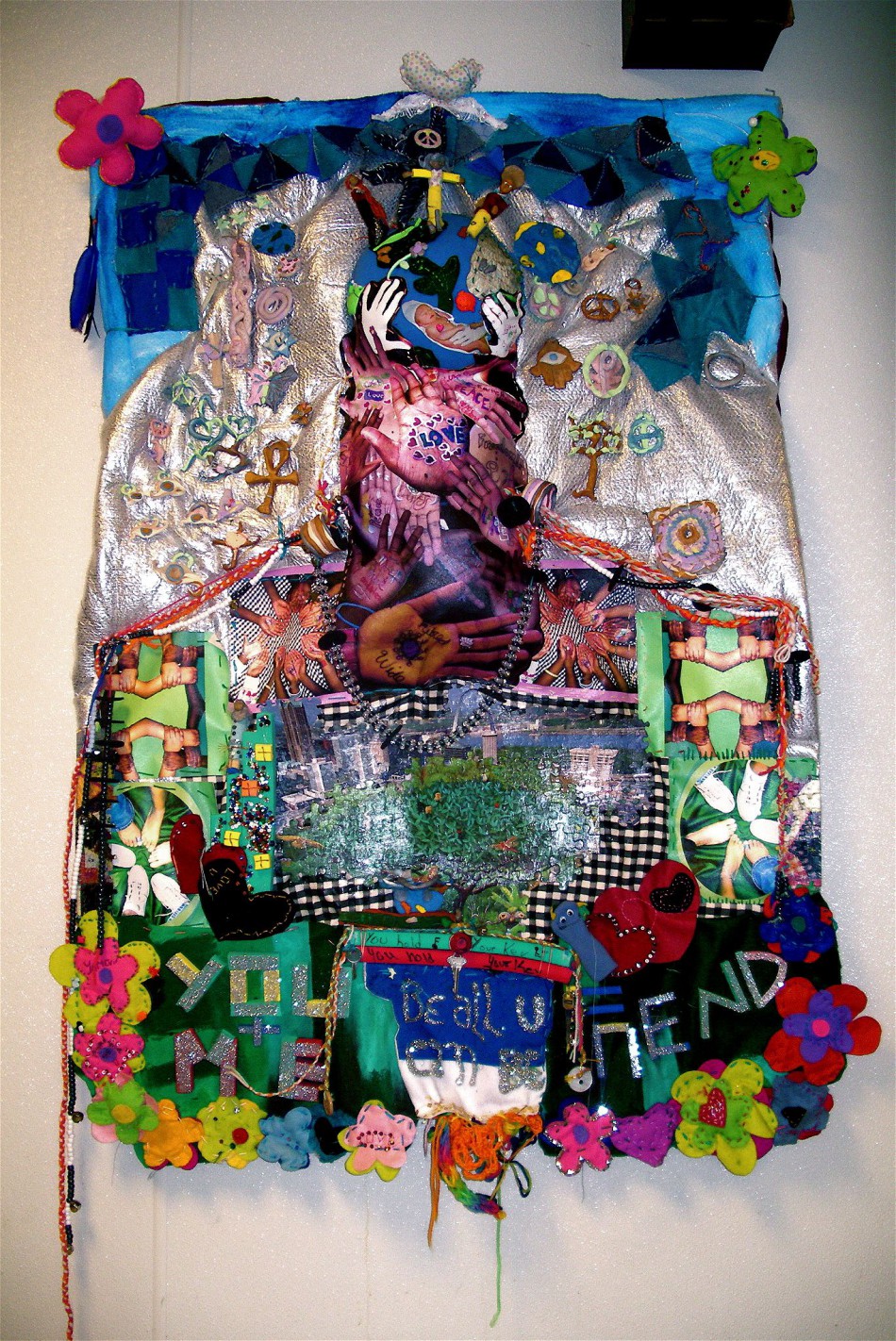 You Hold Your Key!/ Collaborative crazy-quilt with the Marian Summer Sizzer (2008)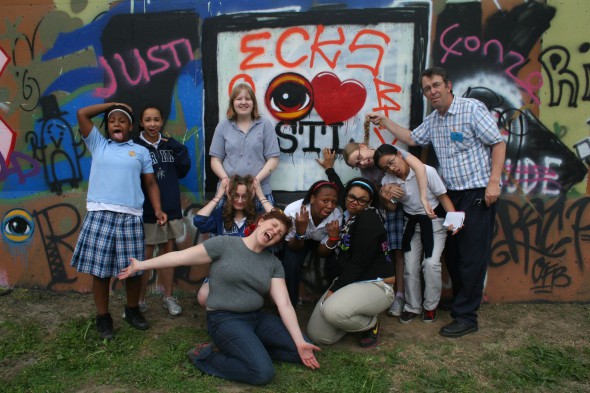 I've enjoyed working with the lovely lil' ladies at the Marian Middle School since 2008.  My friend and collaborator Sarah Paulsen is their art teacher, and I've been the afterschool Art Club facilitator and workshop specialist.  In addition to set design for their Christmas and diversity plays, we've done a few special projects:
MARIAN 2008 SUMMER SIZZLER CRAZY QUILT
"Inspired by the arts and crafts of many of the cultures that converge on Grand Avenue, this image-quilt speaks a playful and encouraging message of self-responsibility and connection:  'You hold your key! Be all you can be. Me + You = Friend!'
Each day during art class of Summer Sizzler 2008 we jumped off an idea, poem, or art form. From Latin American worry dolls to Ethiopian crosses, from Afghani poetery and calligraphy to African-American quilting, our project reflects that theres' much to learn form every
culture!  During the construction phase each girl chose her task. Then we practiced weaving all of our work together.   (Collaboration is a great teacher! It can bring up attitudes and arguments — so you get to see if you really mean your message.
We hope our artwork is a joyful testimony to the intricacy of our interconnectedness. On day one we wove a web of our selves from a big orange ball of "You are here!" thread.  We are  a puzzle that fits into this tree of life, from STL to the world; our hands bear our message as we work believing in love, friendship, and peace."
2010 LOVE LETTER CAMPAIGN
The Art Club received grant money to fulfill a service project of their choice and design.  They decided they wanted to leave encouraging, anonymous messages out in the open through various means.  They experimented with creating sculpey magnets to give to strangers and leaving these together with handmade poetic cards around town.  But they were most excited to try their hand at spray painting stencilled messages to leave on dilapidated buildings. We got permission from Alderman Ken Ortmann to do a temporary installation near the Cherokee Real garden on Cherokee Street, with messages like:  "Begin again. And again." and "Grow Love".  We took a field trip to the flood wall to learn about Paint Louis past, and to get inspired about the future of participatory public art in STL!