Sometime near last new year I scrawled large in my journal four verbs:
M O V E             L E A R N           C R E A T E            W O R S H I  P
– core action words I feel best when embodying daily.  As I designed a soul school break from the nitty gritty pretty city to recast my personal vision, these verbs anchor and fuel my aliveness.
It's 2012. I just turned 33 – 'my Jesus year!' as my good friend (conditioned by the same Christian values I was) likes to remind.  Regardless of what prophecies pan out in these tumultuous times, it's true: I carry a tremendous urgency laced with celebration and fierceness to align with Highest Good in this great big shifting, to let go of anything that doesn't serve and dance straight to the heart of our intrinsic connection with the Divine.  I'm paying close attention to the questions that line my being:   How can I best help honor and heal our earth? How can I embody the divine Feminine principle that rebalances relationships toward "power with"? How can I best enjoy contributing to the soulful evolution of education, community, economy?  To live thusly, what do my nest, diet, body, vocation, & relationships look like on the daily?
>
>
I started feeling restless in St. Louis and as a community artist a few years back – like I wasn't working from a sure enough foundation, like the work wasn't truly sustainable or reaching as deep as I wanted to — and so began to feel around into new modes, for new teachers.   I created a zine /Now How I Learn In Motion/ about my goals and dreams to focus my going, and set out on the 2010 biking superhero ride. After a juicy taste of intentional-community learning in motion, i was just about to launch into this prolonged visionquest when my body demanded urgent attention.  So I surrendered to the deep layers of letting go and healing that illness gifted, and learned to take care of myself and receive love like never before.
Plants became my healers, so my need to reconnect with nature surged foreground.  I bopped back with more curiosity, confidence, and voraciousness than ever – raised money for yoga school tuition and travel thanks to super supportive friends and family, sold my car, and stored my stuff on a 5ft X 5 ft palette in the basement of a bookstore.  It looks all chock full and compact like spaceship ready to shapeshift, and I feel like that too.
>
>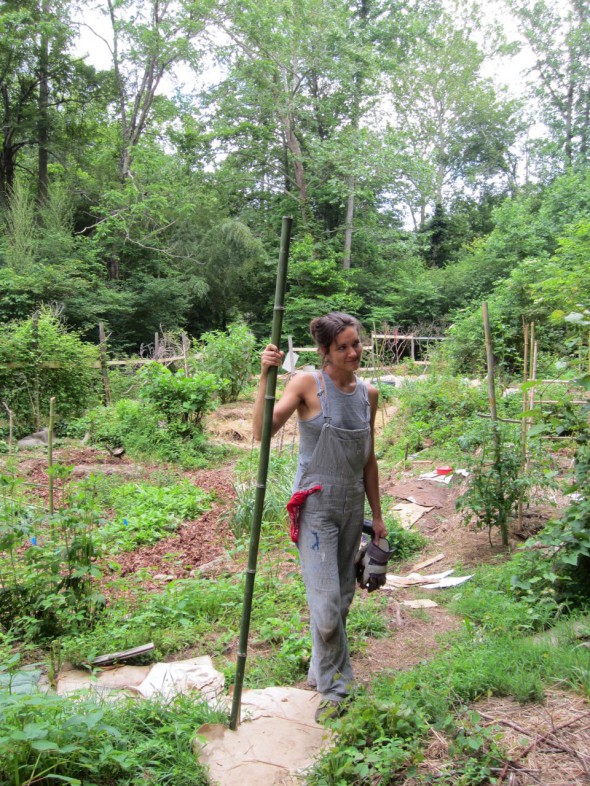 First stop is Earthhaven, living permaculture in action as a work-exchanger at the  Medicine Wheel house.    Then a month of 200-hr yoga teacher training at Kripalu, then the biking Superhero ride, Michigan 2012:"Long Haul for Justice"!!  After that, back to STL to co-create for Us Light, and to fundraise for travel and volunteer work at a Mexican orphanage …….and beyond!  I'm learning to let that spot beneath my solar plexus be my compass, and Trust, Trust, Trust.
Here I am –  two months ago I set out in an open-ended adventure to inquire at the intersection of nature, body, spirit, and community.  As I'm guided, I sense that over next few years I might go and come, weaving in and out as this interactive-travel-learning-life curriculum keeps unfolding. Where eighteen years of traditional schooling and hierarchical religion may have undermined my innate connections to the Earth and all Beings, I am reclaiming my right to be fully alive and fully intimate with others.  I am harvesting wisdom and rethinking, refeeling, retooling my vision.  So be it and so it is!