Last fall I was delighted to line up another gig with the UMSL Public Policy Research Center's Photography Project. In 2008, I'd worked on the Cherokee Street photography project with Mel Watkins, the project's director, and Jean Durel, who commissioned the project on behalf of Incarnate Word's "Heart and Soul" Community building efforts in Benton Park West.  I really enjoyed the teaching ethic of 'support role'/ facilitator — giving youth the skills and tools to tell their own story, and staying out of the way as much as possible.  Our project bloomed into the "yOur voice yOur neighborhood" banners and the cherokeestreetnews.org neighborhood blog, as well a community digital photo archive.
Mel and I reconnected when she invited me to edit the Photography Project's website (live soon!) — and as I did so, I marveled at the multifaceted, diverse 'family photo album' of STL's many organizations and people groups that comprise the project. Since its inception in 2004, the project has documented over 30 groups.
Below is the brochure's essay on City Greens Produce, the organization I worked with last fall. I was so impressed with their dedication, wisdom, and humility — they have their vision squarely set on the issues of health and food safety, and they are a beautiful testimony to the way that gardening and sharing food unite and empower a community. You are cordially invited to our opening!

OPENING RECEPTION: Tuesday, January 17th at 5:30 to 7pm
• Catholic Charities Midtown Center • Website: midtowncc.org
• 1202 S. Boyle Avenue, St. Louis, 63110 • Info: 314-534-1180
• Hours: 9 – 5 weekdays • Saturdays: Jan. 21, Feb. 18 and March 10, 1-4 pm
Brochure essay }} Descend the stair to the cheery, yellow basement of Midtown Catholic Charities and behold: the smell of sautéed garlic and onions draws you in immediately. In the back, fresh vegetables are simmering, soon to be served up in hot wraps for lingering shoppers to sample. Powerhouse volunteer Bobbie Sykes has proven that one sure-fire way to seduce skeptics into eating a healthier diet is through happy taste buds. She muses, "I like to make community hunger disappear. There are no right or wrong foods but we should try to use them healthier."
Welcome to City Greens Produce, an innovative nonprofit dynamically living up to its vision: "Our community should have access to healthy, fresh, and affordable choices to fuel our bodies and minds. People unite around food–sharing meals and memories. At City Greens our community is uniting to make sure each of us has the opportunity to enjoy fresh fruits and vegetables – from the good earth to our family's tables." Here, neighbors living below the poverty guideline enjoy free memberships to shop for delicious, at-cost, tax-free, organic, local food. Sponsoring members make a yearly donation. Tables are stocked with produce from Lincoln County, Missouri and other local goodies such as Companion Bakery bread, Hilty's Bee Yard jams and honey, Mound City Peanut Butter, and Freddy's Ghetto Sauce.
Our photography project participants were a diverse crew ranging in age from 15-67 and including Midtown staff and volunteers, as well as the center's director and a volunteer's granddaughter. We started off taking notes on Edward Weston's inquiry into the formal beauty of simple produce. Then we followed cues from Roy DeCarava's poetic documentation of Harlem's coming-of-age as we explored the community garden and took field trips following the path of the Supa Fresh Veggie Mobile – the lime green market-on-wheels that takes City Greens' affordable produce to other St. Louis districts. Finally, in preparation for our own collaborative feast, we inquired after the deeper meaning of breaking bread together, inspired by Carrie May Weems' "Kitchen Table Series."
Nyree Thomas remembers, "Our kitchen table was like the living room of our house. And Mama had her seat – everybody knew. Under the plastic table cloth was a puzzle to put together…" It seems that the City Greens Produce market is growing up to be the 'living room' of the neighborhood, where gathering around real food and relaxing, hearty laughter is good medicine.
—Lyndsey Scott, PPRC Photography Project Instructor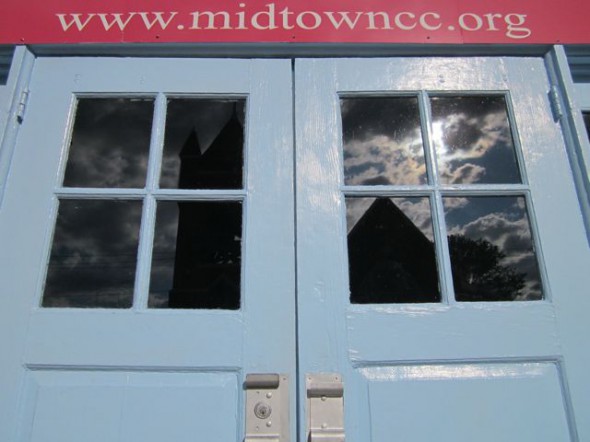 WHAT IS THE PHOTOGRAPHY PROJECT?
The Photography Project is modeled after the pioneering community photography programs of Wendy Ewald and is sponsored by the Public Policy Research Center at the University of Missouri St. Louis and directed by Mel Watkin. Each year PPRC's Photography Project teaches volunteer community groups how to photograph their work to improve the quality of life in St. Louis. The resulting exhibition is displayed at two locations, the PPRC Photography Project Gallery on the UMSL campus, and in neighborhoods where the volunteers work. Through these partnerships, the Photography Project strives to bring art directly into St. Louis neighborhoods while also highlighting the undertakings of local organizations working towards the greater good and inspiring people to get involved with their communities.